Michael Dunford Guitar Auction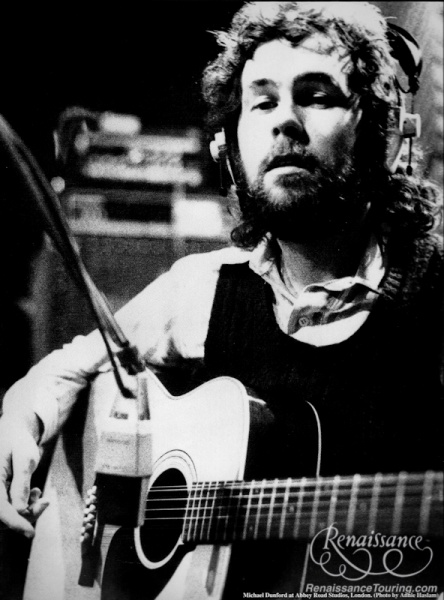 Own a part of progressive rock history: The guitars which recorded and performed Renaissance classics
Michael Dunford, principal songwriter and guitarist of renowned symphonic progressive rock band Renaissance, will be offering two of his guitars for auction:
Yamaha FG-230
Specifications:
Years Sold: 1968-72
Manufactured in Taiwan
Original MSRP(US$): $149.00
Top: Spruce
Back / Sides: Mahogany
Neck: Mahogany
Fingerboard: Rosewood
Upgraded Schaller
tuning keys
The guitar is in good condition showing only normal wear and tear (please see photos below), except for:
Tear in lacquer on backside of guitar (click photo):
History:
Purchased new  by Michael Dunford around 1972
Played on every album from Ashes are Burning through Tuscany including the UK hit single Northern Lights
Can you Understand (Ashes Are Burning) was the first song recorded with the Yamaha.
Michael Dunford remembers:
"We found the Yamaha had a very rich full sound which was ideal for what I wanted on our albums.  When we used to record at De Lane Lea in Wembley, London (Ashes Are Burning/Turn Of The Cards/Novella) I used to record out under the stairwell at the back of Studio three as it was a very bright and live sound with all the stone work around."
Ovation Adamas
Specifications:
Model 1688-5 (mislabeled as 1688-9 – incorrect color code)
Serial number 398-96
Manufactured in 1978
The guitar is in good condition showing only normal wear and tear (please see photos below), except for:
History:
Featured on Azude D'or 1979 studio album
Featured on two songs from the album Songs From Renaissance Days – Dreamaker and Writers Wronged.
Michael Dunford recalls:
"I had been playing Ovation 6 and 12 string guitars on all live shows for a while when they bought out the Adamas which I believe was in 1978. It really was a very pretty looking and unusual guitar especially for that time.

As I was using the guitars on stage and also we were touring quite extensively Ovation offered me a sponsorship deal.

I purchased a black 12 string acoustic electric (which was the one I used) and a red one as well in 1976 or 1977. I also played an electric guitar as well which required quick changes of guitars so we had two fibre glass moulds made for both Ovations. I would be playing the electric guitar and walk up to the Ovation on the stand so it enabled me to play smoothly form one to the other. In fact sometimes with certain lighting it would appear as if they were floating in mid air."
The Auction
The guitars will be listed on eBay one at a time starting in August 2011.
Gallery
Frequently Asked Questions
Where are the guitars shipping from?
The Yamaha is in the UK.  The Ovation is in the United States.
What is the starting price?
We will set the starting price shortly before listing the items on eBay in August.  The starting prices will be substantial, reflecting their historic and collector value, but there will not be a reserve.
What is the shipping cost?
We will notify the buyer of actual packing and shipping costs (air, not ground) via carrier (DHL, FedEx, or UPS)
Can I come pick up the guitars myself?
Is the Yamaha the "Nippon Gakki" model?
No, it was manufactured in Taiwan.
Please contact us if you have questions about the guitars or the auction