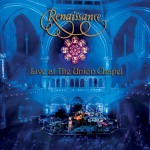 Renaissance Live at the Union Chapel DVD now shipping worldwide from Amazon.com USA. Digital live album is available from online music stores and streaming services, or directly from the band.
Running time 100 minutes, plus 25-minute interview. LPCM stereo and Dolby Digital 5.1 soundtracks. Audio mixes by Rave Tesar. Video by Paul Green Productions, with lighting by Steve Hackett's long time lighting director Russell 'Tigger' Matthews. Eco-friendly Digipak with 8-page booklet.
Autographed copies available from http://store.renaissancetouring.com
THANK YOU to our Indiegogo backers who made this DVD possible!