UPDATE: DVD releases on February 8 2016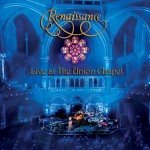 We are proud to share the cover art and trailer for the Live at The Union Chapel DVD which was made possible by our fans worldwide through the Indiegogo campaign.
The DVD ships to backers in December 2015, followed by pre-orders placed via Indiegogo. We will start taking orders on our web site by January 2016. A Blu-Ray version is planned in 2016.
The DVD is NTSC all-region, with LPCM stereo and Dolby Digital surround audio tracks.
Filmed at The Union Chapel in London UK on April 16 2015 by Paul Green Productions. Lighting by Russell 'Tigger' Matthews.