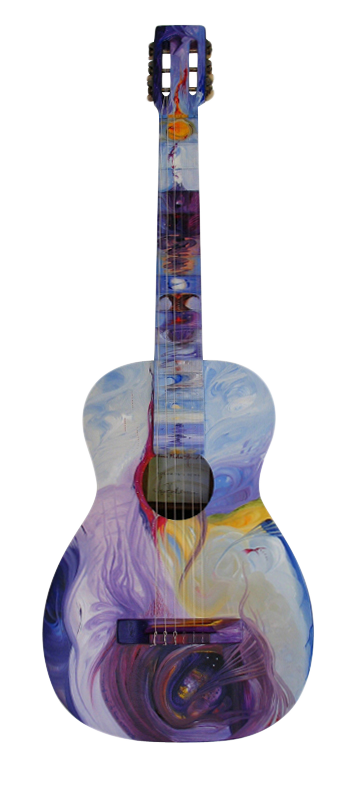 Dear Friends
I am very excited to be showing my painted guitars at The Morrison Hotel Gallery in Soho, NYC, from February 11th, and feel very honoured to have been invited by Jonathan Singer to be part of his very special show.
Please take a moment to read about the show, if you can get down to see it you will not be disappointed, his photographs are 'stunning'!
♥ Annie

The Morrison Hotel Gallery Presents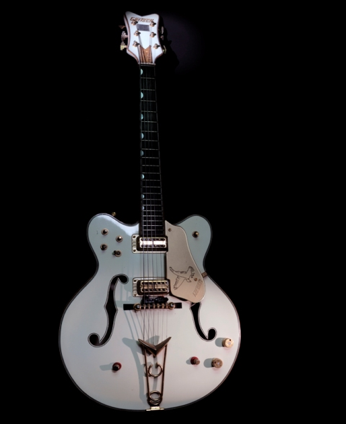 THE ART OF THE GUITAR
The Photography of Jonathan Singer
Curated by Bernard "Buzzy" Levine
A Celebration of Guitars from Famed Photographer Jonathan Singer
at The Morrison Hotel Gallery Loft at 116 Prince Street in SoHo, NYC.
VIP/Press Preview Thursday, February 10 from 5:30-6:30 pm
January 20th 2011, New York, NY – For the first time ever, The Morrison Hotel Gallery loft in Soho is thrilled to introduce The Art of the Guitar: The Photography of Jonathan Singer as fine art photography in a special VIP/press preview on Thursday, February 10 from 5:30-6:30 pm, sponsored by Guitar Aficionado and Canson Infinity.
This special show is curated by Bernard "Buzzy" Levine, owner of Lark Street Music, appraiser for the Metropolitan Museum of Art and longtime contributing editor to the Vintage Guitar Price Guide.  Featured photographs will include guitars by Fender, Gibson, Martin, Gretch, Mandolin Brothers and John Monteleone "Four Seasons" guitars in signed, limited edition sets, among others.
Jonathan Singer has been shooting guitars for over 20 years and has appeared in Acoustic Guitar magazine, Guitar Maker, Premiere Guitar, Vanity Fair, and ARTnews, among others. He has also been featured on CBS Sunday Morning and ABC News.  Singer is renowned for his unusual shooting style which he developed for his botanical work, bringing him world wide acclaim and entry into the Smithsonian Institution and The Royal Swedish Academy of Sciences and earning him many accolades and awards.
On his newest exhibition Singer says, "By turning the guitar into an art piece it takes on a whole new meaning. The style I use either makes the guitars melt into the background or jump off the paper they are printed on. The instrument must have the power to be a celebrity on its own."
Some instruments featured in The Art of the Guitar will be shown for the very first time to the public.   For any musician or individual who appreciates the history and craftsmanship of the guitar, this exhibit is sure to please and inspire.  In addition to his exhibit, Jonathan Singer has collaborated with artist and Renaissance singer Annie Haslam, whose paintings on guitars will also be featured and up for sale in the gallery windows.
On the exhibit, curator Bernard "Buzzy" Levine says, "The American guitar is eternal in its stringed simplicity, yet novel in its ability to connect the soul and fingers. Singer captures and honors the beauty and utility of these relics of American craftsmanship in a way befitting the majesty of their legendary sound."
Stan Jay, President of Mandolin Brothers adds, "Jonathan creates art into what was formerly merely description."
Billy Gibbons of ZZ Top says, "Well it's that time again…! Guitars, guitars, and mo' guitars. And the photographic styling's from premier camera master Jonathan Singer takes the many forms of the 6-string into an elegant excursion into fresh versions of passionately observing wood and wire.  A goodly combo all way 'round.  Enjoy Jonathan Singer's exquisite capture of form and focus."
The Art of the Guitar: The Photography of Jonathan Singer
is sponsored by Guitar Aficionado & Canson Infinity

5:30-6:30pm The Art of the Guitar Exhibition – VIP/Media Preview
Morrison Hotel Gallery Loft, 116 Prince St.
*The Art of the Guitar Exhibit Will be
Open to the Public beginning February 11 at both 116 Prince Street & 313 Bowery, NYC*
The Morrison Hotel Gallery was founded in 2001 by Peter Blachley, a former record company executive, producer Rich Horowitz, a former independent record store owner, and Henry Diltz, a legendary music photographer. The gallery has since grown to become a major brand in fine art and music photography and is respected amongst peers and artists alike.