'Annie in Wonderland' re-release plus a bonus new recording of Roy Wood's huge 'hit single' from the 60's… 'Flowers in the Rain'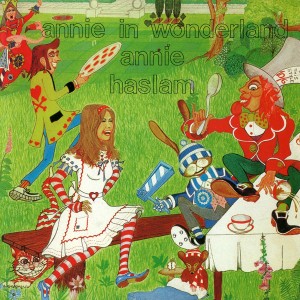 I am very excited to tell you that my very first solo album Annie in Wonderland produced by Roy Wood is being re-released on Friday Music. This has been a rare album/CD to get hold of in the past few years so I am happy that it will be readily available again. Of all my recordings this was the most fun. Working with Roy who is a 'musical genius' and learning so much from him during the recording was priceless.
Roy also painted and designed the unique whimsical cover art… and Yes I used to wear striped stockings like that, and Yes I used to laugh like that and still do! Ah! the 70's….
We also recorded one of his hit singles Flowers in the Rain as a bonus track! Please check it out, it's a gem!
Love, Peace and Harmony
♥ Annie
ANNIE IN WONDERLAND
Original Recording Remastered + Bonus Track
Release Date Jan 25th 2011
Pre-order everywhere at all leading online retail accounts like Amazon.com and at Fridaymusic.com:
FLOWERS IN THE RAIN
Annie Haslam
ITUNES digital download single – available now!!!!!