Annie Haslam to appear on a panel at NY-area Beatles fan convention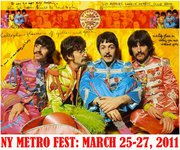 The "B.U.I. (Beatles Under The Influence)" musicians forum on Sunday afternoon is to be joined by a very special, previously-unannounced guest. Annie Haslam lead vocalist of the legendary British fusion band Renaissance – has just been added to the lineup and will join musicians Gary Wright, Mark Hudson, Joey Molland, Mark Rivera and forum creator/moderator Martin Lewis in an informal conversation and jam session celebrating the myriad musical influences that shaped the Beatles.
Annie's brother, the late Michael Haslam, was a ballad singer managed by Beatles manager Brian Epstein in the early 1960s – he performed at the Beatles Christmas shows 1964-1965.
Facebook: http://www.facebook.com/thefest
Website: http://www.thefest.com/
Specific webpage about the upcoming event: http://tinyurl.com/cejl3y
Posted March 17th, 2011 in
News
.